Who Developed Apex Legends?
Apex Legends was released in 2019 and is based in the Titanfall universe.
The game was first developed in 2016 as a game mode in Titanfall.
Apex Legends mobile is currently in beta testing in India, the Philippines, Indonesia, and four other countries.
---
Apex Legends, the free-to-play FPS, came out on the PC, PlayStation 4, and Xbox One in February 2019. Since then, the battle royale has been making waves with a mobile version on the way. Respawn Entertainment developed Apex Legends and the game was published by Respawn's parent company EA (Electronic Arts). Before Apex, Respawn was best known for its Titanfall game series. In fact, Apex Legends takes place in the Titanfall universe and uses the same source engine and many of the assets from Titanfall 2. Respawn is currently working on Star Wars Jedi: Fallen Order with EA and developing Apex Legends for mobile.
Respawn Entertainment's Development of Apex Legends
Respawn began working on Apex Legends at the end of 2016. The game's release in 2019 was a surprise to many who assumed that Respawn Entertainment was working on the third game in the Titanfall series. The guns and Pathfinder's grapple hook (with a few tweaks) have been brought into Apex Legends from Titanfall 2.
Almost two years before the release of Apex Legends, Respawn had their first company-wide playtest on a new Titanfall game mode called 'Survival' where pilots and Titans would fight it out to be the last man standing, battle royale style.
In October 2017, the first versions of Gibraltar, Bloodhound, and Wraith were developed and by November 2017, Respawn did their first 50 player game successfully and began playtesting on a map that would eventually be called Kings Canyon.
The name of the game turned from "Survival" to "Apex Predator". The game went through a number of other changes before it became the Apex Legends we know and love today.
Respawn is Bringing Apex Legends to Mobile Soon
In May 2019, EA had hinted that Apex Legends would be coming to mobile but had not given us a definite timeline. A year after the game's release, EA confirmed that they were planning to release a mobile version in 2020. Respawn Entertainment is currently developing Apex Legends Mobile. In April 2021, Apex Legends Mobile was available for download to a limited number of players in India. Players in the Philippines got early access in May 2021 and last month, five more countries, namely Indonesia, Peru, Colombia, Egypt, and Lebanon, got access to the beta test.
Published On: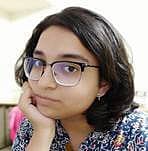 Nutan is AFK Gaming's source for everything from Twitch to the Twitterati. Her focus lies in distilling esports content from around the world. As the former captain of Girlaxy India, she brings an experienced eye in analysing the League of Legends scene.