PUBG New State: Trailers, Pre-Registration Info and What's New
PUBG New State will be coming out some time during 2021.
Pre-registrations for Android users on Google Play Store have crossed 20 million.
iOS users can pre-register in August 2021.
---
PUBG: New State was announced by PUBG Studio on Feb 25, 2021 for Android and iOS. PUBG Mobile's sequel New State comes from the creators of the original PC and console game PlayerUnknown's Battlegrounds. While there has been no official release date set for the game, it will be releasing some time during 2021. Pre-registrations for PUBG New State are open for Android users and have already crossed over 20 million users. iOS users will be able to pre-register starting in August, 2021.
PUBG New State Launch Trailer Is Out
PUBG Studio promised "ultra-realistic graphics that push the limits of mobile gaming" for PUBG: New State during its announcement in February and by the looks of it, they have delivered. Check out the stunning graphics in the launch trailer below:
The new trailer features the same PUBG feel fans are familiar with, alongside cyberpunk-like body enhancements and futuristic locations and vehicles. These decorative changes are in addition to realistic gunplay that is "optimized for mobile gaming".
The core gameplay of PUBG New State follows the same battle royale format with 100 players dropping onto a map. To win the elusive Chicken DInner you must survive against other players and the blue zone till the last person stands.
What Is New In PUBG New State?
PUBG New State is based in the year 2051 and with this comes futuristic bikes, cars, loot drones, a deployable shield and more. Players will now be able to modify weapons with performance enhancements and grenade launching attachments during the match.
The game will also feature a new map called Troi. The new map is similar in size to maps like Erangel and Miramar with plenty of new locations featuring a mix of green and urban areas. The trailer also features an exhibition centre and a location called Tythonic Industries.
How To Pre-register For PUBG New State
Android users can pre-register on the Google Play Store right now through this . iOS users will have to wait till August, 2021. Players who pre-register will get access to a limited edition vehicle skin when the game launches.
Published On: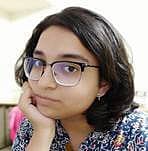 Nutan is AFK Gaming's source for everything from Twitch to the Twitterati. Her focus lies in distilling esports content from around the world. As the former captain of Girlaxy India, she brings an experienced eye in analysing the League of Legends scene.