Here's Why Esports Commentators Are Underappreciated
The average CS:GO caster works harder, but gets paid significantly less than T20 cricket commentators
The top esports commentators in the world can earn upwards of $1.5K to $2K per day
The full story is part of AFK Gaming's Premium Bundle - Esports Explained
It's no secret that almost every job in the esports industry is more demanding than its mainstream counterpart. One of these that often gets overlooked is the job of an esports commentator. The most iconic plays in the world would never have been immortalized without the presence of a trained voice. However, to get to the moment where a commentator can become a part of esports history requires dedication and sacrifice that few other roles require. To get a deeper understanding of what it takes to make it, I spoke with professional CS:GO commentator Sudhen "Bleh" Wahengbam. Bleh is probably the only Indian esports caster to have consistently made it to the global stage. Using his insights coupled with my short experience as a Dota 2 commentator, this article aims to break down the journey, sacrifices, and overlooked skills required in the industry.
How much does an esports caster earn? And is it worth it?
The average CS:GO game lasts for 60 minutes, including pre-and post-game commentary. During this period, play-by-play commentators have to raise and modulate their voices at least 15 times. In the most extreme circumstances, commentators are required to work for up to three best-of-three matches over a three-day weekend. This could mean up to nine and a half hours of talk-time per day, or up to 27 hours of talk time over a LAN weekend! By comparison, a T20 cricket match usually includes no more than three to four hours of talk-time per day. Additionally, the esports audience is used to high energy, "hype" commentary with minimal moments of silence. This takes a bigger toll on a commentator's vocal cords than the easy-going, conversational style of commentary that one sees on a traditional sports broadcast.
The top esports commentators can earn upwards of USD 1.5 K to 2 K per day. Six-figure salaries for commentators on a publisher's payroll aren't unheard of either. According to business insider, the top cricket commentators make up to INR 250 K ($3.5 K) per day, while crictracker reports that the highest-paid cricket commentator had an annual income of above INR 65 M ($900 K).
The full story is part of AFK Gaming's premium content collection and includes:
A step-by-step journey of a professional esports commentator
Exclusive insights and advice from Sudhen "Bleh" Wahengbam - a professional CS:GO commentator
A detailed overview of the skills required for esports casters in 2021
A word of warning for newcomers looking to make careers as talent in esports
CLICK HERE to explore the bundle.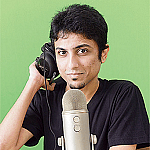 Nishant is a co-founder of AFK Gaming is well versed with esports in Asia. He has an in-depth understanding of the Indian esports business ecosystem.