Cover Image Courtesy: ViCi Gaming
The IEM Katowice 2019 flagged off to a blazing start today with the inaugural matches of the New Challengers Stage witnessing ViCi go up against Fnatic as Renegades took on AVANGAR. 
Oh boy, what a fantastic match it was between the heavy underdogs ViCi Gaming and the team expected to qualify without a hitch Fnatic. The Chinese team really brought out their A game as they took down Fnatic by a score of '16-9' on Overpass.
First game first upset? @ViCi_Gaming take Overpass against @FNATIC 16:9!#IEM https://t.co/fTBRGvbUbv pic.twitter.com/BOB1uT5KAN

— Intel®ExtremeMasters (@IEM) February 13, 2019
On the other side, the Australian side Renegades also celebrated their victory over AVANGAR, hitting them hard on Train as they went down by a score '16-8'.
---
ViCi Gaming surely caused a massive upset by taking down Fnatic in the very first round of the New Challengers Stage.  
The Chinese teams were applauded for their performance against North which guaranteed their qualification for the Major, but they were also the team that was voted the most under the category of 'Team that will be eliminated without winning'.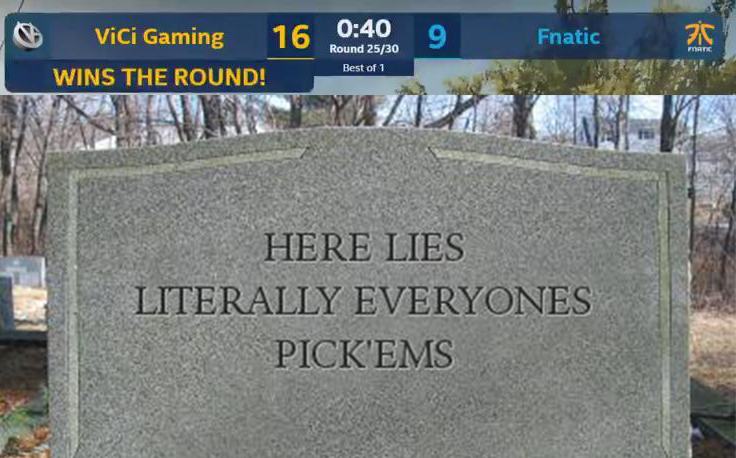 Image Credit: ESL CounterStrike
Well everyone can sob in piece now as the Chinese team has certainly proved their worth. 
True to the classic Chinese CS:GO strat, the ViCi line-up was very aggressive from the very start and did not slow down in their approach but instead mixed it up quite well with subtle rotations, creating all sorts of problems for the opposition. 
Along with the aggression, the lurking routes and the angles held by Kaze while AWPing were quite unconventional at times, providing ViCi with the man advantage time and again.
---

Some standout moments which showed ViCi outplaying Fnatic were,

The fourth round defuse where Kaze covers Zhoking, as he defuses the bomb. While both of them die Kaze's cover provides Zhoking with enough time to defuse the bomb.
.@ViCi_Gaming go up 4:0 after this hectic round! #IEM https://t.co/JCaCtOvQYi pic.twitter.com/YKxlhCydgh

— ESL Counter-Strike (@ESLCS) February 13, 2019
Advent clutches a 1v2 followed by a defuse to win a seemingly impossible round for ViCi.
Kaze picks off two with his AWP to deny Fnatic a retake.
Advent and Zhoking survive on 3 & 4 HP, respectively as Zhoking takes a triple kill to help ViCi reach Map Point.
---
ViCi were surely underestimated and they have proved themselves to be more than what meets the eye.
I'm calling bullshit that Vici thinks Vitality are the best team in the field and FNATIC are only 7th. Thank goodness ESL throws out ridiculous votes.https://t.co/dPTXaNrmZK

— Thorin (@Thooorin) February 13, 2019
The teams are certainly finding it a bit odd to adjust to their playstyle which is a massive advantage for them. But this in no way discredits the form in which Kaze, Advent and Zhoking have been performing. 
How does @ViCi_Gaming feel about beating @FNATIC in the opening match of the #IEM Katowice Major Championship?! pic.twitter.com/0ocXRulqBe

— ESL Counter-Strike (@ESLCS) February 13, 2019
---

Hope to see ViCi continue down this path of success as Fnatic will be thinking really hard on how to handle the coming teams. 
Stay tuned as we bring you more updates from the New Challengers Stage.
---