Cover Image Courtesy: BLAST Pro Series
The group stage of the Blast Pro Series: Los Angeles 2019 came to an end yesterday with Team Liquid, FaZe Clan, NRG Esports & Cloud 9 making it through to the Playoffs. It was a great opening day full of single-game matches which did not end well for MIBR and Renegades.
This is what the group stage table looks like at the end of it all,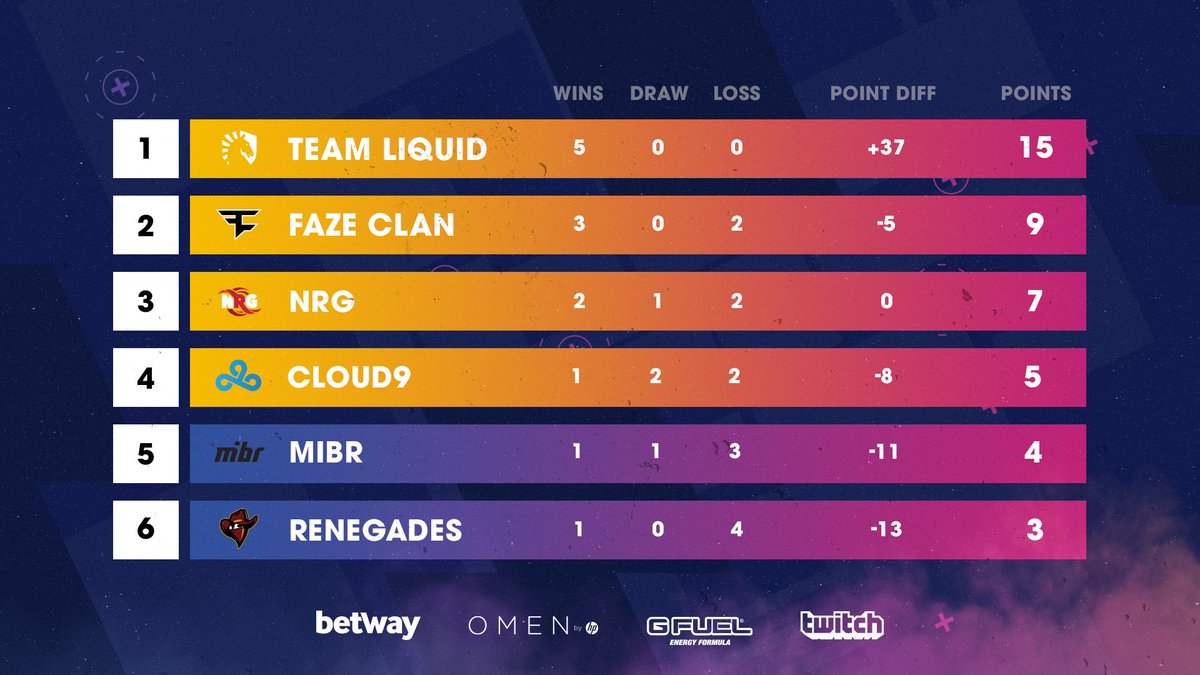 Image Credit: BLAST Pro Series
---
Liquid - Clean Sweep

The NA super squad were in top form as they went on to secure victory in every single match ending up at the top of the points table with a '5-0' record. Surprisingly, the only teams that were able to achieve double-figure numbers against them were MIBR and Renegades, both of whom were eliminated from the tournament.

Image Credit: Liquipedia
Liquid was as good as ever with NAF being the best performer for his side, currently holding an overall HLTV rating of 1.54 across the five matches. It was a bit odd to see EliGE and Nitr0 not holding the top ratings for their side as both Stewie2K and Twistzz played far better than the old-timers.

Image Credit: HLTV
FaZe Clan

In the absence of other top teams in the event, FaZe put their best foot forward and went on to secure a second-place finish in the group stage. They secured three victories while losing out to Cloud9 and Liquid.
Once again we can see that FaZe felt pretty comfortable playing against NRG but really had to grind it against MIBR and Renegades, who despite having being eliminated put up a great hustle against all the teams.
 
NRG Esports

NRG was not as spectacular as everyone had hoped for. The home team were clearly not feeling themselves as they took just two wins while losing two as well. But what really hurt their chances of finishing second in the points table was a draw against Cloud9.
Though Brehze was in top shape, hitting hard and finishing the day with an overall HLTV rating of 1.23, other members of the squad were not on the same frequency as him. Almost all had penned down a finale taking place between Liquid and NRG before the start of the tournament and though Liquid seems to be keeping true to the prediction, there is worry written all over NRG's fate.
 
Cloud9

One of the underdogs stepping into the tournament they have certainly fought their way through the group stage to secure the last qualifying slot. With a single victory to their name against FaZe. Cloud9 held a draw against both MIBR and NRG while losing out on two other matches as well.
They might have waded through to the Playoffs but do they have enough fuel in them to make it through the Playoffs as well?
 
Eliminated

It was disappointing to see MIBR and Renegades walk out of the event like that, though it was expected that MIBR wouldn't be doing all that well in the event with their recent form being enough proof to come to the conclusion. Renegades who were expected to perform well ended up with just a single victory against Cloud9. The Australian squad are on a downward spiral and can't seem to pull themselves out of this free fall which began a few months back in Sydney.

Image Credit: Liquipedia
---

With the Playoff stage ready and three home teams playing today for a lion's share of the $250,000 USD prize pool, it is going to be a treat for all the supporters attending the event in person. Let's see who walks away with this leg of the BLAST Pro Series!
---