The Regional Minors for IEM Katowice 2019 are due to kick off this week starting 16th January. The CIS and the Europe Minors will both be concluded by 20th January followed by the Asian and the Americas Minor which will take place from 22nd-26th January.
---
Talent At The Event
Just like any other ESL event, the Minor will be incomplete without an impressive talent line-up featuring the following.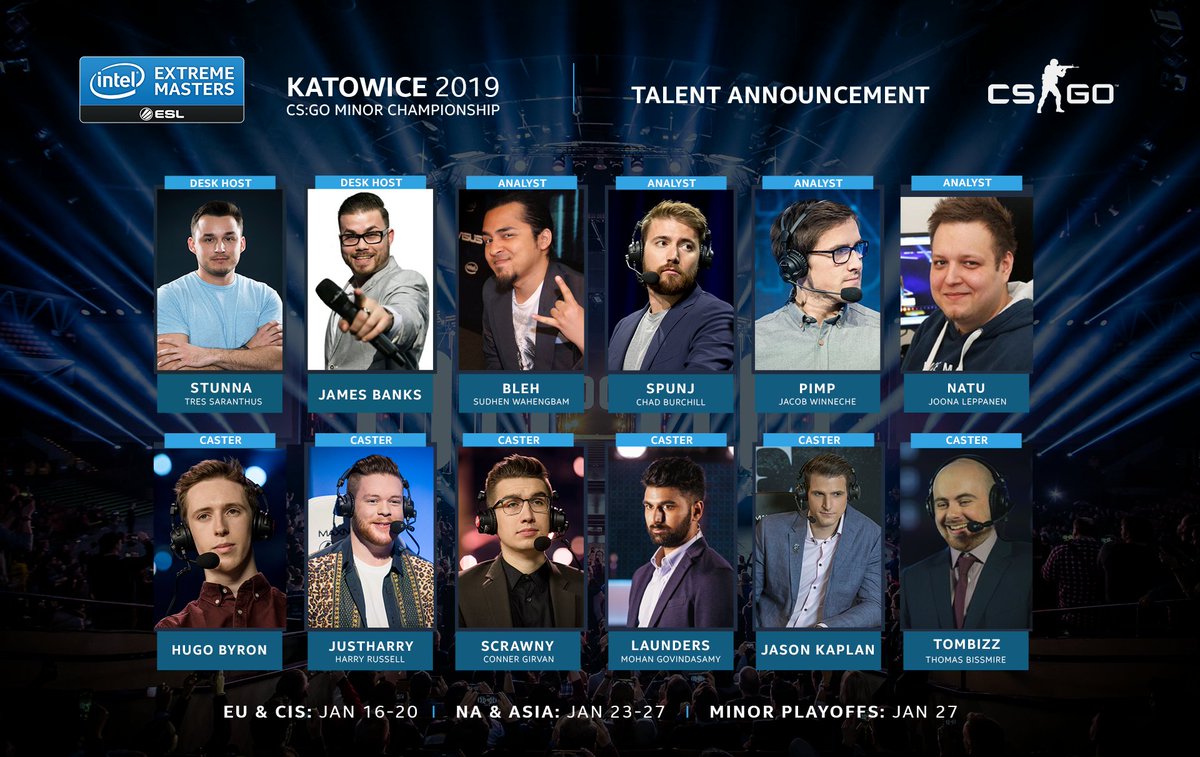 We have Hugo Byron, JustHarry, Scrawny, Launders, Jason Kaplan and Tombizz as the commentators, to keep us excited and focused on the game through their wonderful off-screen presence. 
Finally, on the Analyst desk, we have Natu, Pimp, SPUNJ and Bleh, to give us a pre-match predictions along with a post-match breakdown.
---
In-Conversation With Bleh
Sudhen 'Bleh' Wahengbam is starting off 2019 on a high note. The CS:GO veteran has already attended a fair few international events as a talent with his most appearance being at DH Mumbai 2018.
Bleh was kind enough to respond to a few questions about his upcoming trip to Katowice. This is what he had to say.
---

Q - Your thoughts/feeling about being a talent at Katowice 2019.
A - It's pretty humbling to be invited. I had done the first Asian Minor at IEM Taipei 3 years back, so it's cool to finally do another one with ESL. 
 
Q - A few words about your co-analysts. Have you worked with any of them in the past? If so, what was the experience like? 
A - I've worked with everyone in the talent pool. Very professional crew and always fun to hang around with. Especially looking forward to working with Jason Kaplan again as he was the guy I casted with at my first international event.
 
Q - What are you looking forward to most in Katowice?
A - I'm looking forward to trying the infamous Katowice KFC and of course doing more than just the Asian Minor this time. 
 
Q - A prediction from your side on which teams will be making it through the four minors.
EU Minor: Mouse | Ence
Asia Minor: Renegades | Grayhound  
CIS Minor: Spirit | Avangar
 
Americas Minor: NRG | INTZ


Q - Any words from your side to our readers. Any shoutouts?

A - I honestly appreciate all the kind words of support from everyone who takes an active interest in my adventures. It is very humbling and makes me appreciate how lucky I am to get to do what I do. See Y'all on twitch chat!
---

That was Bleh guys! It was great catching up with him. You guys can all tune in to watch the IEM Katowice 2019 - Minors by following the links provided below.
Follow Bleh on Twitter at 
https://twitter.com/OfficialBleh